General investing versus ISA investing
All clients who open a LHX ISA still have the option to invest outside the ISA. When making an ISA-eligible investment, simply choose at the point of purchase whether you would like to invest through your ISA or with non-ISA funds (general investing). Once you have invested you can track the performance of both general and ISA investments separately.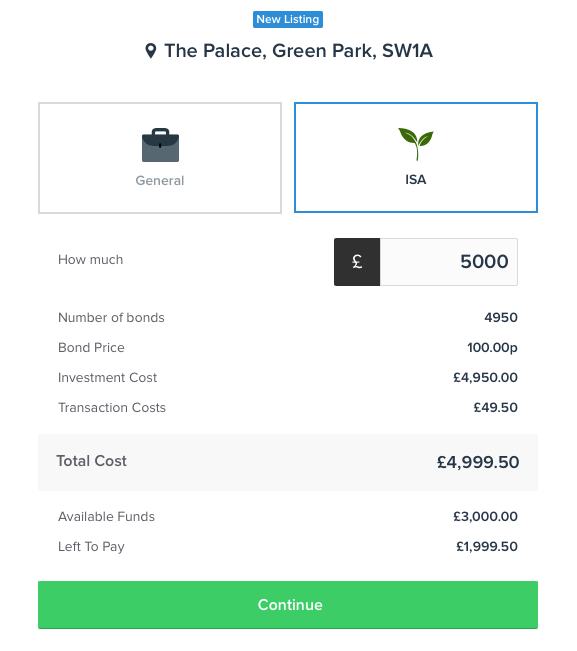 What is the minimum I can invest?
The minimum you can invest in a single property-backed loan or bond varies on an individual basis - please refer to the specific investment page. This is the same for ISA and general investing. Property-backed loans and bonds are currently the only type of investment you can make using your ISA with London House Exchange.
How much can I invest each year?
Investors can subscribe up to £20,000 of new funds to invest in the LHX ISA in the current tax year. The annual ISA allowance applies to all new deposits made across all types of ISA.
In addition, investors can transfer funds from other ISAs and reinvest capital and interest returned from previous investments at any time.
If you do not use your ISA allowance in a given tax year you cannot carry it over to the next year. The tax year runs from 6 April to 5 April.
How can I monitor the performance of my investments in my ISA portfolio?
Your ISA portfolio has its own dashboard, separate to your general portfolio, which allows you to track the performance of investments.
The portfolio dashboard allows you to see the status of the property backed loans/bonds you have invested in, any capital that has been returned on completed loans and any interest paid for completed loans. You can also see all transactions made through your ISA portfolio in the Account History section.
How can I get my money back?
When you invest in property-backed loans or bonds with LHX your capital cannot be accessed until the end of the investment term when the loan has been repaid, or earlier in the case of partial repayment. Interest accrued is typically paid at the end of the term or it may be paid earlier and pro-rated alongside partial capital repayment.
Each property-backed loan or bond investment has its own investment case and terms and conditions, with key details such as the expected term, interest rate and risks involved made clear.
Financial Services Compensation Scheme (FSCS)
Investments made through an LHX ISA are not covered by the Financial Services Compensation Scheme (FSCS). However, uninvested cash held in your LHX ISA account is held in a segregated client monies account with Barclays Bank plc which, in the event the bank defaults, is covered by the FSCS up to £85,000 per person, per bank. See https://www.fscs.org.uk/ for more information.
Understanding the risks
Before investing in any property backed loans or bonds through LHX, it's important to understand the different categories of risk associated with these types of investment. As with all investments, particularly high risk investments, investors should diversify their exposure. To learn more about the key risks when investing in property backed loans or bonds click here. To learn more about the key risks when investing in LHX Mortgage bonds click here.
To read our ISA terms and conditions, click here.